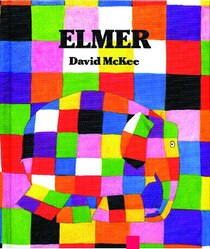 Song:
One Elephant went out to play
upon a spider's web one day.
He had such enormous fun
that he called for another elephant to come.
HEY ELEPHANT!
Two elephants... Three elephants... Four elephants...
Then there's five elephants and that's the end
A story I would highly recommend is "Elmer" By David McKee. It's about a colorful elephant who disguises himself to look like the other elephants. What happens when this adorable elephant look like the other elephants? I guess you'll have to read it to find out!